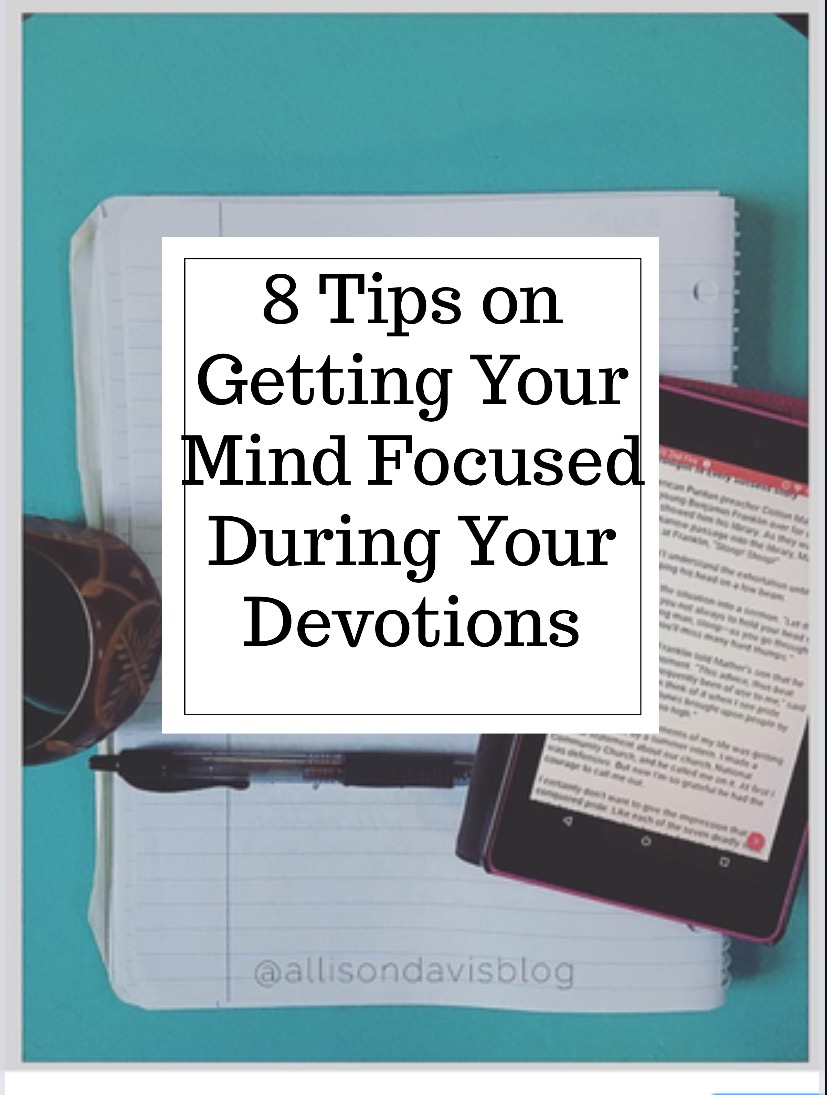 When you spend time with God and reading the Bible, what would you like it to look and feel like? Would you want this time to go beyond going through the motions? Would you like to feel near Him, to hear from Him, to be in His presence? Do you desire for His Word to jump off the page and cause you to feel ALIVE? Yes?!? So let's be real this (and more) will not happen if we are distracted and not able to focus when spending time with God! A few years ago I also began wanting more from my time spent with God and knew I needed to make a few simple changes to support me in getting my mind FOCUSED more quickly on God and His Word. These changes have made the difference for me in going from distracted to focused, and therefore taking in all that God has to teach me in His Word! I hope these tips are also helpful for you!8 Tips on Getting Your Mind Focused During Your Devotions:
1- Set my phone out of my reach. This is my biggest temptation and distraction from spending quality time with God. So I set it on my kitchen counter where I'm not able to get it. I actually most often use my Bible app for my Bible study, so the devise I use is my Kindle. My Kindle purposely has very few apps on it and won't cause me to lose focus during my time with God. I even put the "Do Not Disturb" setting on my phone so that it's not only out of reach, but I also won't hear it buzz or ring in the mornings.
2- I have a designated sheet of paper for any non-Bible thoughts that are sure to pop into my mind. I quickly write them on this paper so I can come back to it later, and let that thought go.
3- Already have all of my Bible reading materials by me and ready to go. My materials include my prayer journal, pen, Kindle, and current Bible Study workbook. I try to set these materials out on the end table in my living room before I go to bed.
4- After I have sat down with my journal and Kindle (with the Bible app open), I take a couple of deep breaths to relax. This simple exercise is actually super helpful in getting my mind and body to calm down and focus on what is in front of me.
5- I have a list in the front of my journal with specific prayer requests for myself, goals, people in my life, ministries, etc.
(Read my post
about creating meaningful prayer.) This helps me stay focused during prayer because I have a plan of what and who I'm praying for, but also helps to remind me to pray daily for the things that are most important to me. (By the way, I get to this list usually after this morning prayers and Bible reading/study. But like I said earlier, there are no rules!) Again, I also have
this post with more details about how I pray with focus.)
6 – My two short & simple morning prayers! These are prayers that start my quiet time and helps me get focused. They are written in the first page of my prayer journal so I can find them easily and turn to them every morning.
D.A.I.L.Y. Morning Prayer.This was taught to me at a Sunday morning church service at College Park Church in Carmel, Indiana. Pastor Mark Vroegop shared this with us and I've used it almost every day since! I love how it helps me to open myself up to Jesus and claims that I'll trust Him that day!
Lord, I want to…" prayer by Lysa Turkhuerst.I saw this on Lysa's Instagram feed one day and loved the simplicity of this powerful prayer. There is something about the desire and humility of this prayer that my heart seeks to be like and pray. It is not hard for me to pray this with all my heart each and every morning! I hope you love it too!
7- I don't want these prayers to be robotic or another "task", so if I find I'm reciting them without any heart behind them, I re-focus and pray them again but from my heart.
8- I also don't feel I have to do these specific prayers every single day.
I usually do, but if I wake up with something pressing on my heart, then I start my quiet time by bringing that specific burden to God. I make sure I don't go into "school-mode" where I'm nervous that I'm doing prayer right or wrong (because there is no right/wrong in prayer!). I remind myself that this time is between God and me. I come into my quiet time with a plan, but nothing rigid.
Waking up in the morning to be with Jesus is literally something I look forward to every day! I hope this helps you in spending time with Him too!
Love & Blessings,
Allison
Go to my
Facebook Page
to view the Live Teaching to go along with this lesson!
Allison's Instagram: allisondavisblog
Blog HOME Online Bible Study HOME
Want more on prayer?